Consulting Principal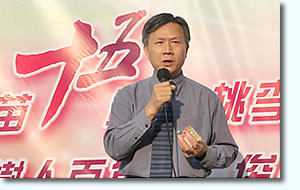 Dr. Yuen Pong-yiu was conferred Bachelor of Science, Diploma of Education, Master of Arts (Education) and Doctor of Philosophy (Education Administration and School Organization) by the Chinese University of Hong Kong. He has rich experience in secondary school education and administration. Prior to joining Tin Ka Ping Secondary School as Principal in September 2004, Dr. Yuen had been Chairman of an Information Technology Team, Chairman of Chemistry Department, Prefect of Studies, Vice-principal, and Principal in other secondary schools. In 2000, he was seconded to the former Education and Manpower Bureau as Resident Adjudication Specialist responsible for accrediting outstanding schools.
Dr. Yuen is a professional in various educational organizations, holding posts as Director of Tin Ka Ping Foundation; Member of Management Committee, Hong Kong Institute of Educational Research, Chinese University of Hong Kong since 2014; Honorary Consultant (since 2011) and Part-time Lecturer (since 2002), Faculty of Education, Chinese University of Hong Kong. He was Chairman of Hong Kong Association of the Heads of Secondary Schools (2009-2012); Chairman of North District Secondary School Principals' Association (2005-2009, 2015-16); Chairman of Secondary School Places Allocation Committee (2010-2012); Advisory Committee Member of the Project WeCan organized by the Wharf (Holdings) Limited (2010-2015); Member of Quality Education Fund Dissemination and Promotion Sub-committee (2009-2015); Chairman of Steering Group of District-based School Development and Networking Project for Secondary Schools in the NT North District (2008-2011); Member of Research and Development Committee of Hong Kong Examination and Assessment Authority (2004-2007); and Expert Member of Asia-pacific Center for Education Leadership and School Quality of Hong Kong Institute of Education (2000-2010).
In the area of community services, Dr. Yuen has been Co-opted Member of Community Care Fund Task Force under Commission on Poverty since 2012. He was Chairman of North District Fight Crime Committee (2012-2016); Chairman of North District Youth Programme Committee (2011-2013); Member of Steering Committee on Community Care Fund (2010-2012); Member of North District Summer Youth Programme Coordinating Committee (2008-2009); and Member of Tai Po/North District Local Committee on Service for Young People (2008-2010).